This is the nation's largest searchable collection of documents on policies around CHWs (mainly on the state level). Documents include: reports, policy studies, meeting minutes, brochures, state legislative bills and other materials that show how state-level groups have created definitions, policies and workforce development programs for CHWs. Some documents show the results of these efforts. Most documents focus on one state. There are a number of multi-state and national resources.
Who should use it? Documents found in this resource center are most useful for: state government officials; CHW leaders; current and potential employers and payers for CHWs; other individuals and stakeholder organizations involved in advancing and/or considering policies on CHWs. This resource center is not a resource for individual CHWs looking for tools to inform or improve their practice; NACHW Members can find those kinds of materials and links here.
How can you use it? The main use of this resource center is to find information on the process other states have gone through in advancing policies around CHWs. This can help you understand policy options available to your state, or to learn about experiences in other states who have pursued policies or investments similar to ones you are considering for your state. Please feel free to submit documents from your own state that we don't have – just click the button below.
---
CHW Policy Reports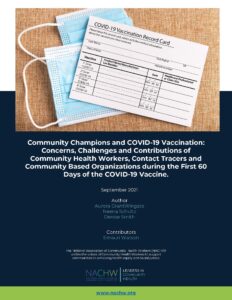 NEW! Community Champions and COVID-19 Vaccination
Author: Aurora GrantWingate, Neena Schultz, Denise Smith
Contributors: Emauri Watson
This report provides a snapshot of respondent perspectives from individual, community and system-levels, as well as challenges, bright spots and recommendations in vaccine distribution from 192 self-identified community health workers, contact tracers and community and organizational leaders.
---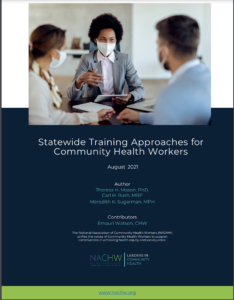 Statewide Training Approaches for Community Health Workers
Author: Theresa H. Mason, Carl H. Rush, Meredith K. Sugarman
Contributors: Emauri Watson, CHW
This report provides examples of the use of the NACHW CHW Document Resource Center by investigating the topic of setting standards for statewide core training for community health workers.
---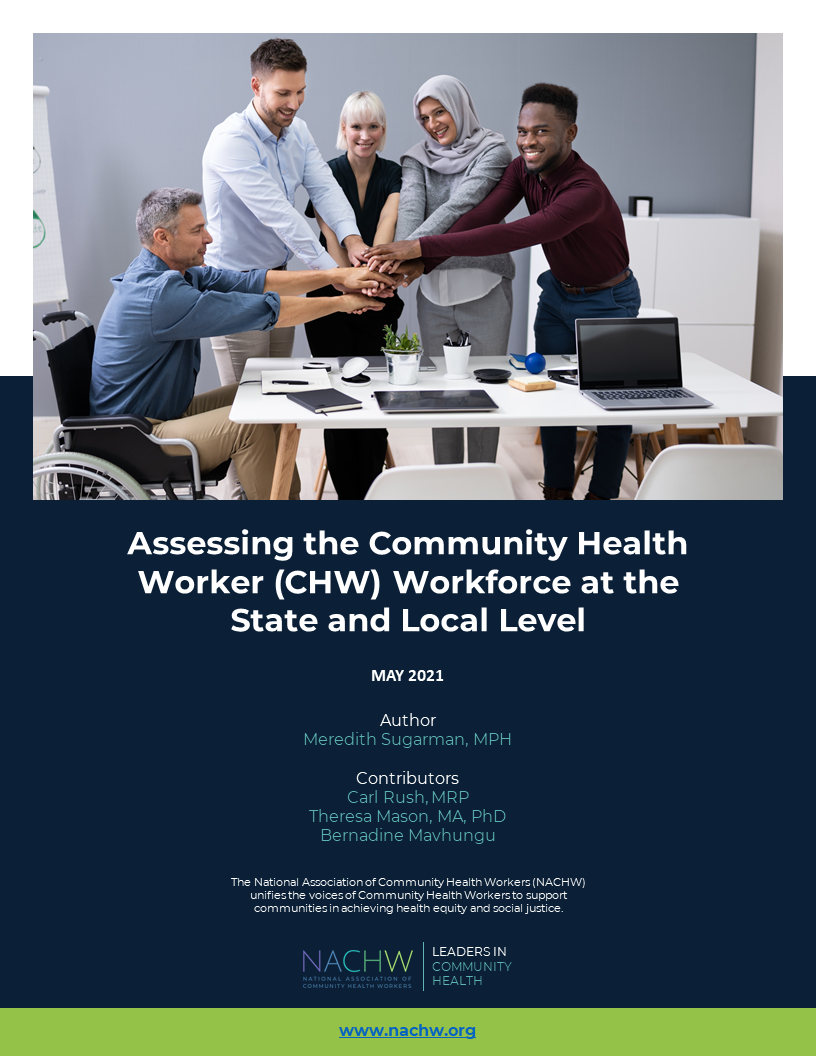 Assessing the Community Health Worker (CHW) Workforce at the State and Local Level
Author: Meredith Sugarman
Contributors: Carl Rush, Theresa Mason, Bernadine Mavhungu
This report provides an example of the use of the NACHW CHW Document Resource Center by describing current efforts and potential support available to state and local health departments, CHW professional organizations, and other stakeholders to measure and assess the CHW workforce.
---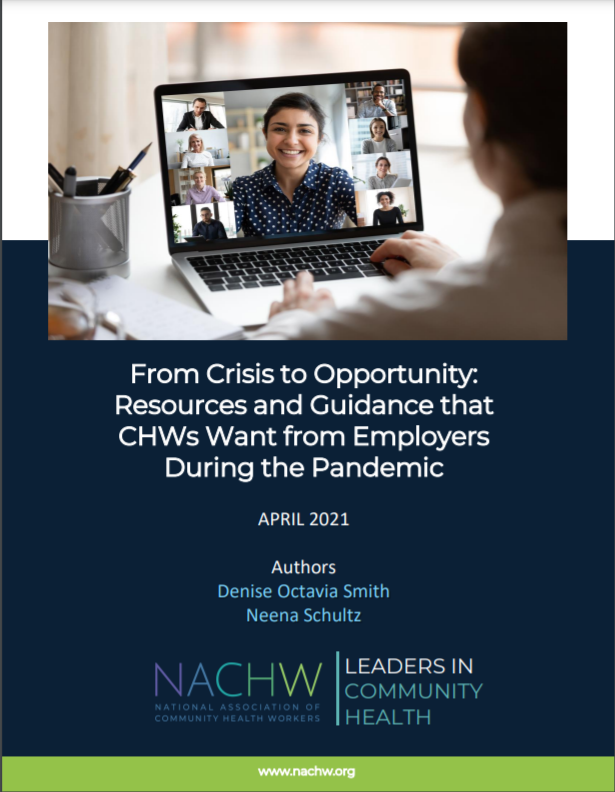 From Crisis to Opportunity: Resources and Guidance that CHWs Want from Employers During the Pandemic
Authors: Denise Octavia Smith, Neena Schultz
This report summarizes the results of a survey that collected CHW responses over three weeks in June 2020 to understand the needs of CHWs and how employers can best support CHWs to protect themselves, provide services safely and adapt services to the changing environment.
FULL REPORT | REPORT ONE PAGER
---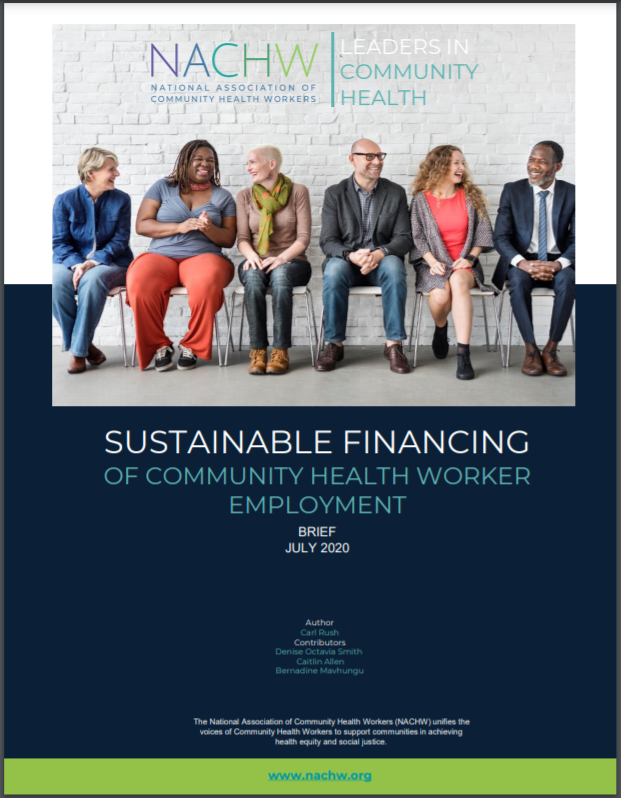 Sustainable Financing of Community Health Workers Employment
Author: Carl Rush
Contributors: Denise Octavia Smith, Caitlin Allen, Bernadine Mavhungu
This report summarizes approaches to financing programs engaging and supporting CHWs, which have been proposed by multiple organizations and research studies from 2001 to the present.
REPORT BRIEF | FULL REPORT | WEBINAR BY AUTHOR CARL RUSH
---
NACHW CHW National Policy Platform (English & Spanish)
VIEW DOCUMENT IN ENGLISH | VER DOCUMENTO EN ESPAÑOL
---
This database was supported by Grant/Cooperative Agreement Number 5-NU38OT000286-02, funded by the Centers for Disease Control and Prevention (CDC). The CDC has funded decades of work to support the engagement of CHWs and was strategic in leading efforts to complete multiple systematic reviews on the topic, convene the 2019 CHW Forum, and has published extensive volumes of translational research resources to advance the CHW workforce and enhance health equity. To access CDC CHW resources, visit the CDC CHW Resources Gateway.
---
How you can help
Please help us keep the Document Resource Center accurate, up to date and useful! At the bottom of each page in the Document Resource Center are 4 buttons:
If you know of a document that should be added to the site
If you have any problems on the site:

links that don't work
material that is copyrighted or should not be available to the public for any reason

If you have other suggestions for us, we want to know!
Become a Member of NACHW!
Share the Resource Center in your newsletters and social media using our Communications Toolkit
Future expansion
This is the first phase. We have hundreds more documents that need to be catalogued and coded, about:
Evidence base
Employment practices
NACHW is seeking funding to complete these added features.
More details about future expansion can be found below
Credits and disclaimers
Project Team:
Denise Octavia Smith, Executive Director, NACHW
Caitlin G. Allen, Project Manager
Carl H. Rush, Senior Technical Advisor
Kayla Craddock, Project Manager (NACDD)
Christopher Whyte, Web Developer (HRiA)
Meredith Sugarman, Consultant
Clarissa Hood, Student Assistant
Grant/Cooperative Agreement Number 5-NU38OT000286-02
Disclaimer
Development of this database was supported by a cooperative agreement from the Centers for Disease Control and Prevention. For CDC CHW resources, visit the CDC CHW Resources Gateway. Facts and opinions expressed in documents on this resource center are solely those presented by the authors and publishers of those documents, and do not represent the views of CDC, NACDD or NACHW. Documents available for download as PDFs in the resource center are believed to be in the Public Domain. If any individual or organization claims copyright protection for a document, and they choose not to grant NACHW permission to offer that document to the public on this web site, NACHW will upon written request remove the PDF of that document from this site.
Website addresses of nonfederal organizations are provided solely as a service to our readers. Provision of an address does not constitute an endorsement by the Centers for Disease Control and Prevention (CDC) or the federal government, and none should be inferred. CDC is not responsible for the content of other organizations' web pages.
Other important resources
These three websites from our partner organizations have state-by-state policy and legislative information for CHWs, including maps and state comparison tables:
The C3 Project website can help you learn about definitions of the CHW workforce (Core Roles, Skills and Qualities) and similarities across states
The Common Indicators Project is working on standard methods and measures for research and evaluation