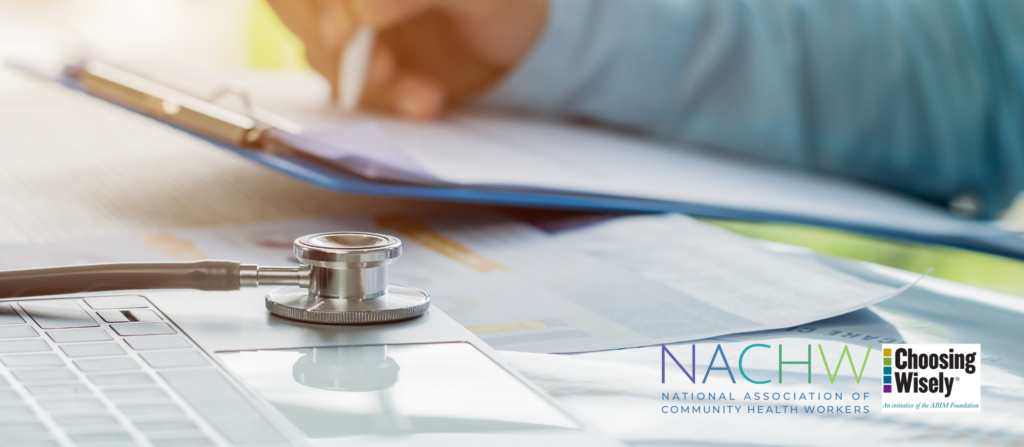 About
The NACHW Choosing Wisely Project engages CHW leaders in partnership with the American Board of Internal Medicine, health care providers and allies to advance Choosing Wisely materials, resources and learnings among community health workers (CHWs include promotoras de salud and community health representatives) professionals who are at the front-line of supporting communities to achieve health, equity and social justice.
The goal of this project is to improve CHWs' access to Choosing Wisely materials, resources and training, and increases opportunities for CHW engagement in national dialogue on CHWs role in building trust and communication between patients and providers, and avoiding unnecessary medical tests, treatments and procedures. This project is funded by the CT Choosing Wisely Collaborative.
Choosing Wisely develops evidence-based recommendations and disseminates training, materials and best practice approaches to promote conversations between clinicians and patients by helping patients choose care that is supported by evidence, not duplicative of other tests or procedures already received, free from harm, and truly necessary.
Our Process and Participants
In order to promote the national professional identity and capacity of CHWs as a critical part of health infrastructure, materials must reflect the unique role and approaches of CHWs in addressing access to and navigation of health services, and integrate CHW leadership in the conceptualization, design, and process of research to co-develop materials and processes that impact them and/or the communities they serve.
Our project collaborated with culturally and linguistically diverse CHW leaders from NACHW's membership across the country who serve in a variety of roles, including members of health system care teams, trainers in statewide certification programs, health advocates, outreach workers, survivors of cancer and those living with chronic disease among other expertise.
CHW Leaders:
---
---
---
---
---
---
---
---
Additional key collaborators in the project included Kelly Rand, Program Officer of the American Board of Internal Medicine, who leads the Choosing Wisely Learning Network and Susan Perez, researcher and advisor to Consumer Reports on discussions on cost of care and advancing/integrating patient values into healthcare systems. NACHW staff included Bernadine Mavhungu, Sr. Communications Associate and Denise Octavia Smith, Executive Director of NACHW. Project management support was provided by Maddie Allen as part of her Tufts Public Health internship program
Project Process
In our initial meeting, case examples and rich, often deeply personal stories were shared about health systems barriers and interactions with medical providers. This led to a more nuanced understanding of the scope of work CHWs do and how the CHW role can vary depending on client need, community, program structure, policy, and funding.
Our initial meeting with the CHWs informed our approach to conducting an informal literature review. In this review, we sought to identify key themes, processes, pathways, and theories around the role of trust in CHWs' and other providers' interactions with those they serve. Although the existing literature often included boilerplate language around CHWs as "trusted members of the community," tangible measures or observations of how CHWs build trust were largely absent. Additionally, CHW voices were notably missing from articles about their own competencies and best practices in trust and relationship building. In order to ensure CHW voices and experiences guided our exploration of the literature review and eventual development of a focus group guide, we designed and facilitated an exploratory mind-mapping exercise with the CHWs in order to delve deeper into the role of trust in their work with clients. The mind-mapping exercise generated a deeper exploration of key concepts and ideas around trust and trust-building from the CHW perspective.
Over the course of several months, we discussed their unique roles in building trust among their clients and patients in healthcare settings and explored the environments where CHWs have discussions about health services. Our partners, Kelly Rand, Susan Perez and Kate Carmondy provided an orientation of Choosing Wisely materials. After an initial filtering from the NACHW staff using the mind map and other discussions, CHW leaders worked in pairs to review and rate the readiness of these materials for inclusion in the project. This subset of Choosing Wisely content and materials that the CHWs deemed relevant to the roles and approaches of CHWs and the environments where they work is included below.