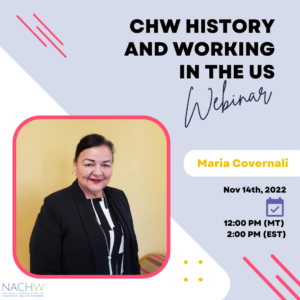 Join Maria Covernali and real community members sharing their story of life after COVID including mental health issues, disconnection, isolation, severe anxiety of public spaces – and how CHWs are working to ease their fears.
Note: This webinar will be in Spanish. A live English translation will be provided!
Date and time: Monday, November 14th, 12 PM (MT)/ 2 PM (EST)
About Maria
Maria Covernali, domestic violence survivor, and founder of Familias Triunfadoras, Inc., a non-profit organization. Maria, as Executive Director and Certified Community Health Worker Instructor by the State of Texas Health Department, trains and certifies community health workers. Maria has trained over 500 Community Health Workers. 80% of the Community Health Workers are survivors of domestic violence.
Maria has over 30 years working in the community, helping to make positive changes in the most vulnerable communities, where help and information for preventive medicine is difficult to reach, gives support to those in domestic violence, find resources to provide adequate housing, health prevention, COVID 19 information and resources to reduce the risk of COVID 19, by visiting  the farms and talk to the farms workers, and provide educational programs, to improve the quality of life for residents of Colonias in the County of El Paso. Maria has developed over 25 projects for the community, this includes infrastructure (natural gas, potable water, sewage) to the communities lacking such services.
Maria is recognized by the Congressman Silvestre Reyes, from the White House, with the Special Congressional Recognition Award for her unique work and her efforts to make positive changes in her local communities; she received in 2006  the Community Organizer Award, by the Border Fair Housing & Economic Justice Center; in 2012 she receive on behalf of the President Barack Obama, the Presidential Award for Volunteer Service; she was awarded the Hometown Hero award from Prudential in 2015: in 2016 she received a recognition for her work with the Community Health Workers, by the General Consulate of Mexico. In 2017 she was recognize by the Government of  Mexico with the OHTLI Award, the highest award given in Mexico. An award given to foreigners of Mexico in recognition to all their work in helping communities in the USA to improve their well-being.
Maria is mother of 4, and grandmother of 12 children.