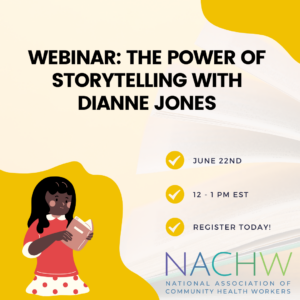 Dianne Jones – a violence specialist and interventionist – describes her role in bringing peace to her community and the lives of young men of color. Dianne is joined by two of her mentees in this webinar who will share their story of change and hope.
Date and time: Wednesday, June 22nd, 12PM EST
Presenter information:
Dianne Jones is an ordained Elder and serves in her outreach ministry– New Birth Ministry, Inc., where she serves many families with their spiritual development as well as assistance with their personal day to day needs; Ms. Jones holds a Bachelor of General Studies degree from the University of Missouri in the areas of Psychology, Business Management, Merchandising; She has  her Master's degree from Cambridge College in Education, her thesis in "How to Build a Youth Program Which Impact Resiliency Factors"; She has worked in the field of violence prevention and advocacy for over 30 plus years; Her primary focus has been to serve within underprivileged urban settings; She serves as a certified trainer in Nonviolence and trainer for the AVP (Alternative to Violence Project) for Connecticut prisons;
Dianne serves as Pastor for New Birth Ministries, Inc. where she provides one on one assistance to individuals re-entering society, she assistance individuals with navigating through the judicial system and serves as Assistant Administrator for HOOPWAVE Youth Academic/Life Skills/Sports Program;
She headed the National Urban League's youth movement NULITES (National Urban League Incentives to Excel and Succeed), her worked focused on the creation of the programs funding, design and implementation.  Pursuant to this work she worked alongside of then Governor Weicker in the establishment of legislation to create funding for afterschool community based centers within Hartford schools.; Dianne attended a White House forum (1994) on addressing urban violence where she was then appointed to serve as a representative for the Children's Defense Fund to the State of CT youth services commission;
She worked for Montgomery Alabama Community Action where she worked alongside of Martin Luther King, III; She worked for Missouri Black Leadership Association where she served as a statewide organizer to address the disparity within impoverished neighborhood; Dianne worked as an outreach liaison and organizer for several Baptist churches throughout Detroit, MI;
Dianne continues to work on local issues by her testimonial endeavors for CCEJ (Connecticut Coalition for Environmental Justice) and issues concerning early inmate release legislation and civic activities with GHWDC (Greater Hartford Woman Democratic Club).  She continues to advocate for the rights of the underprivileged and underserved.