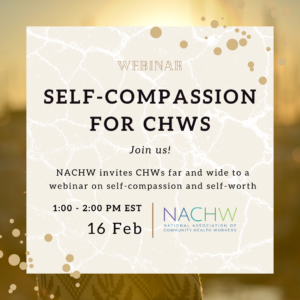 NACHW invites CHWs far and wide to a webinar on self-compassion and self-worth hosted by Ashley Rodriguez (CCHW) (CCHWI). Attendees will learn to define and describe self-worth and self-compassion and learn skills to practice self-acceptance.  
NACHW commits to supporting the mental health and self-care of the CHW workforce.    NACHW's National Data shows that over a third of CHWs we surveyed responded with "neutral, disagree, or strongly disagree" with the statement that I receive support for my self-care and mental health where I work." We present this webinar as part of our ongoing efforts to respond to the needs of our members and the larger workforce. 
For additional resources, please visit: https://nachw.org/mental-health-and-self-care-for-chws/ 
Attendees who take part in the webinar and complete the evaluation survey can receive a certificate of attendance.  
About the presenter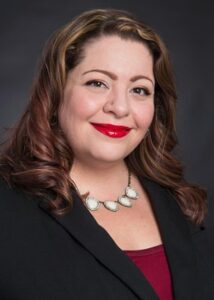 Ashley Rodriguez is an experienced healthcare leader with over 14 years' experience in community & public health. She is an experientially certified Community Health Worker (CHW) and CHW Instructor in Texas, with extensive experience in providing continuing education to CHWs. For the last five years, her focus has been on promoting health equity, improving social determinants of health, innovative program applications for CHWs in and out of healthcare settings, as well as promoting and driving underserved and community health focus projects across Texas. She is currently employed as the Social Innovations Program Manager at McKesson, under their Global Impact Organization. She serves on the Texas DSHS CHW Advisory Committee, is the immediate APHA CHW Section immediate past chair, is on the CHW Common Indicators Project Council, and helped found the Texas Association of Promotores and Community Health Workers (TAPCHW). Ashley mentors Latin youth in North Texas and supports public health efforts in various capacities across Texas and nationally.