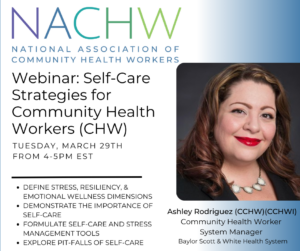 During the COVID-19 pandemic, declining mental health has made headlines all over the world. As front-line responders to the pandemic and the growing mental health crisis, Community Health Workers need strategies to take care of themselves and their communities. 
NACHW invites CHWs far and wide to a webinar on self-care and resilience hosted by Ashley Rodriguez (CCHW) (CCHWI), who is the President of TAPCHW and the APHA CHW Section Chair. During this webinar, attendees will learn how to define stress, resilience, and self-care, along with learning self-care strategies and stress management tools. 
This webinar was created based on feedback from NACHW's Learning Collaboratives, funded by the RxFoundation.
Date/Time: Tuesday, March 29th from 4-5pm EST