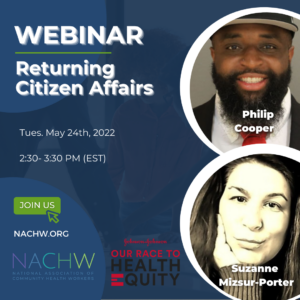 Creating a specialized team of CHWs can contribute to ending the stigma that people face when returning to society from treatment and/or incarceration. CHWs play an integral role in resource navigation in both large and small communities. Creating the right framework is critical for meeting the needs of the people that we serve. So how do we build strong partnerships with resource providers who may not be well-versed in trauma-informed care and stigma reduction? In this presentation, we will discuss how the initial goal of addressing stigma regarding behavioral health services in the Black communities of Western North Carolina led to the development of a team of specialized CHWS serving a regional, multi-county footprint. This team is improving the way we help people and slaying the stigma society places on people with SUD and/or justice involvement. Weaving together a systems integration and boots-on-the-ground approach has been a game-changer. Learn how to take the model we're using and adapt it to your community.
Spanish translation available.
Speakers:
Philip Cooper is a Western North Carolina Native and an accomplished reentry expert, criminal justice reform advocate, and regional change agent. He is the INspire Coordinator at the Land of Sky Regional Council and the founder of Change Agent Cooper LLC, where he provides program development and supervision for Community Health Workers and Peer Support Specialists. He is the founder and co-leader of Voices of Affrilachia, which is a state funded initiative that is addressing the mental health stigma in the Black Communities of Western North Carolina. He recently started an organization called, "Operation Gateway," which utilizes Community Health Workers with lived experience with prison reentry, to connected returning citizens to resources upon release. Philip believes that those closest to the problem are the closest to the solution and this is why he is fully committed to teaching people how to leverage their lived experience to change the world. He is an MLK Service Award Recipient and Appalachian Leadership Fellow. He is a Leading with Conviction Fellow with Just Leadership USA. He serves on the Juvenile Crime Prevention Council and is the Chair of the Just Economics of WNC Board of Directors.
Suzanne Mizsur-Porter has worked for United Way of Rutherford County (UWRC) for more than a decade. She helped establish UWRC's substance use prevention coalition in 2008. Since then, UWRC's focus has expanded to include increased access to treatment, harm reduction, recovery/reentry supports, and other social determinants of health. Suzanne's work in community mobilization, program development, and grant writing has been instrumental in procuring millions of dollars in new resources for Rutherford County. This includes the creation of North Carolina's first MAT program in a county detention center and UWRC's reentry program. She is the project director for UWRC's HRSA R-CORP Implementation grant. The grant initiatives include creating a mobile harm reduction team and a community recovery and healing center. A graduate of the University of South Florida, she is a former journalist and program development/volunteer recruitment director. She discovered her love for advocacy and community development while working for the Hillsborough County, FL court system. Suzanne serves on numerous boards and councils in addition to serving as the Vice-President of the Board of Directors for Addiction Professionals of North Carolina. She also has lived experience as a person with immediate family members with SUD or co-occurring disorders. This personal and professional perspective solidifies her commitment to serving and advocating for individuals and families whose lives are impacted by SUD and the professionals who are dedicated to helping them.
Date and time: Tuesday, May 24th, 2:30-3:30 EST