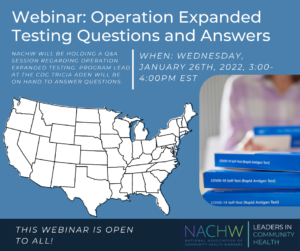 Last week, NACHW partnered with thousands of CHWs and community-based organizations to expand access to rapid, at home COVID-19 antigen testing. As part of this effort, NACHW shared this handout describing Four Ways to Help People Get Access to COVID Testing through COVIDtests.gov.
Join NACHW this Wednesday January 26th at 3pm EST to hear more about Operation Expanded Testing – a new program from the Centers for Disease Control and Prevention. CDC Program Lead Tricia Aden from the CDC will be on hand to answer questions about the program and how individuals and organizations can get involved.
This webinar is free and open to all, no NACHW membership required! 
OpET helps to provide testing resources nationwide, especially in communities that have been disproportionately affected by the COVID-19 pandemic. OpET provides no-cost testing to child-care centers, K-12 schools, historically black colleges and universities (HBCUs), under-resourced communities, and congregate settings, such as homeless shelters, domestic violence and abuse shelters, non-federal correctional facilities, and other qualified sites.