¿Cómo pueden los CHWs reconocer y responder a la violencia doméstica?
Este seminario web explorará las diferentes apariencias de la violencia doméstica y cómo los CHW sor promotores de salud pueden reconocer los signos de trauma en las relaciones, presentado por María Ortiz-Covernali, directora ejecutiva de Familias Triunfadores, Inc en El Paso, Texas y líder de CHW. La presentación discutirá la restauración de las familias, la curación y los recursos para los miembros de la comunidad. Esta presentación es reconocida en el Estado de Texas. El webinario se presentará en español con traducción al inglés disponible.
How CHWs can recognize and respond to Domestic Violence?
This webinar will explore the different appearances of Domestic Violence and how CHWs can recognize signs of relationship trauma, presented by Maria Ortiz-Covernali, Executive Director of Familias Triunfadores, Inc in El Paso, Texas and a CHW Leader. The presentation will discuss restoring families, healing, and resources for community members. This presentation is recognized in the State of Texas.The webinar will be presented in Spanish with English translation available. 
Wednesday April 6th, 2pm-3:00pm EST
Presenter information: 
Introductory video from funder Jorge Leon from Johnson and Johnson.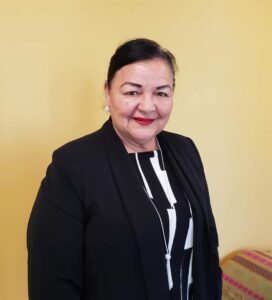 Maria Covernali, domestic violence survivor, and founder of Familias Triunfadoras, Inc., a non-profit organization. Maria, as Executive Director and Certified Community Health Worker Instructor by the State of Texas Health Department, trains and certifies community health workers. Maria has trained over 500 Community Health Workers. 80% of the Community Health Workers are survivors of domestic violence.
Maria has over 30 years of working in the community, helping to make positive changes in the most vulnerable communities, where help and information for preventive medicine are difficult to reach, gives support to those in domestic violence, find resources to provide adequate housing, health prevention, COVID 19 information, and resources to reduce the risk of COVID 19, by visiting the farms and talk to the farm workers, and provide educational programs, to improve the quality of life for residents of Colonias in the County of El Paso. Maria has developed over 25 projects for the community, this includes infrastructure (natural gas, potable water, sewage) to the communities lacking such services.
Maria is recognized by Congressman Silvestre Reyes, from the White House, with the Special Congressional Recognition Award for her unique work and her efforts to make positive changes in her local communities; she received in 2006  the Community Organizer Award, by the Border Fair Housing & Economic Justice Center; in 2012 she receives on behalf of the President Barack Obama, the Presidential Award for Volunteer Service; she was awarded the Hometown Hero award from Prudential in 2015: in 2016 she received recognition for her work with the Community Health Workers, by the General Consulate of Mexico. In 2017 she was recognized by the Government of  Mexico with the OHTLI Award, the highest award given in Mexico. An award is given to foreigners of Mexico in recognition of all their work in helping communities in the USA to improve their well-being.
Maria is a mother of 4, and grandmother of 12 children