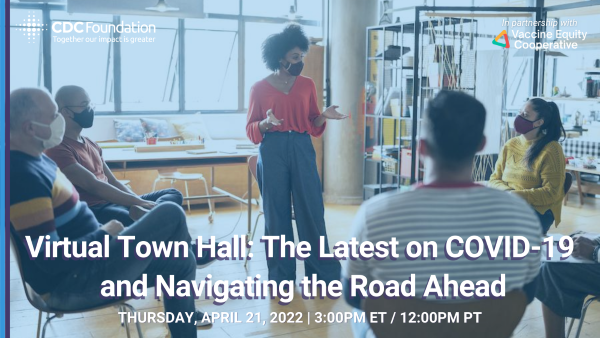 Thursday April 21, 2022 | 3:00 – 4:00pm ET / 12:00 – 1:00pm PT
Many community-based organizations are working to embrace a "new normal" in order to protect people from COVID-19. That effort requires navigating the constant flow of updates and adopting community-specific approaches to a range of challenges, from vaccines and boosters to masks, testing and treatments. In response, the next event from the CDC Foundation and Vaccine Equity Cooperative (VEC) will create a space to share your latest concerns, learn from each other and answer your most pressing questions.
Please join us for an interactive Town Hall webinar where national and local experts discuss your top COVID-19 questions and address your biggest concerns during the next phase of the pandemic, including:
Feeling unprepared to keep communities protected for another surge or new variant
Keeping the vaccination momentum going, especially for families and children
Battling misinformation during quickly changing COVID-19 protocols
Confusion over when and where to use a mask
Managing widespread COVID fatigue in the community
Unexpected reality of long COVID, and other long-term outcomes of the pandemic
During the 60 minutes, we will try to get through as many of your questions as possible! We invite you to come with additional issues to raise, but encourage you to submit your questions in advance using the box on the registration form.