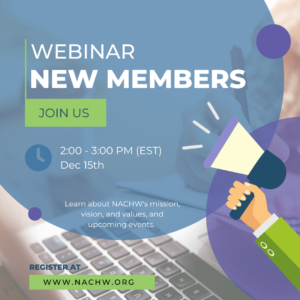 NACHW invites members new and old to join the NACHW team on Thursday, December 15th from 2:00-3:00 pm EST for our New Member Webinar! During this call, we will introduce NACHW, our mission, vision, values, tools, and resources, and talk about upcoming opportunities and events, and will officially announce a "Save the date" for our Unity Conference and Annual Business Meeting 2023!
Live Spanish translation available. 
To register, please sign in to your account, please go to www.nachw.org, and click on "Login" on the top right corner of the page. Then, click on the "Member's Portal," on the top right of the page. From there, go to the "Events" tab to register for the call.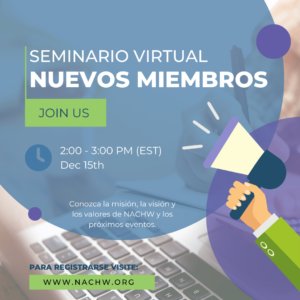 ¡Todos los nuevos miembros de NACHW y aquellos que no son nuevos pero que desean asistir, están invitados a unirse a NACHW el Jueves 15 de Diciembre de 2:00-3:00 pm EST a nuestro seminario virtual para nuevos miembros! Durante esta llamada, presentaremos la misión, visión, valores, recursos y hablaremos sobre las próximas oportunidades y eventos de NACHW. Para registrarse, inicie sesión en su cuenta, vaya a www.nachw.org y haga clic en "Iniciar sesión" en la esquina superior derecha de la página. Luego, haga clic en el "Portal de miembro", en la parte superior derecha de la página. Desde allí, vaya a la pestaña "Eventos" para registrarse a esta llamada.