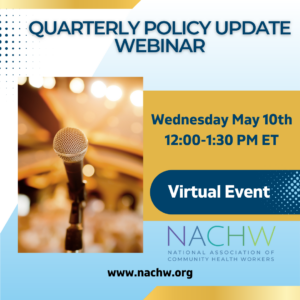 Join NACHW on Wednesday, May 10th 12:00-1:30 pm Eastern for the Quarterly Policy Update Webinar. NACHW staff and guests will review current national initiatives related to CHWs and potential impacts on our workforce, profession, and movement. CHW leaders across the country will share recent advocacy milestones from their states. We will also share an exciting announcement about how CHWs can get involved nationally and in their home states. This call is open to all.
Learning objectives:
After the call, participants will be able to:
Describe recent developments in national policy 

Identify potential impacts on CHWs

Identify actions and events to raise CHW voice in policy

Hear from CHW leaders across the country about recent advocacy milestones in their states.
Panelists:
Lucas Allen (Partners In Health US)
Angie Kuzma, NACHW
Katherine Martinez, NACHW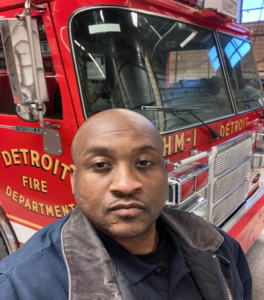 Gary serves his community as a Detroit Firefighter. That experience and exposure led to local and national recognition for his leadership in addressing environmental health disparities and environmental justice within neglected communities. As a Culture of Health Leader, with the Robert Wood Johnson Foundation, he collaborates with residents to advance health equity. Gary is currently Director of Community and Economic Development at Joy Southfield CDC. He recently partnered with the Association of Black Psychologist, Inc. (ABPsi) to assess mental health needs within the African American community regarding the effects of the pandemic. The ABPsi COVID-19 Needs Assessment Project was part of a national initiative sponsored by The Alliance of Ethnic Minority Psychological Associations (funded by the Congressional Tri-Caucus [Black Caucus, Hispanic Caucus, and Asian Caucus]). Early this year, Gary was selected by the National Association of Community Health Workers (NACHW) as one of twelve leaders from across the country to represent community health workers (CHW) as National CHW Leaders in The NACHW Advance CHW Project – sponsored by Johnson and Johnson.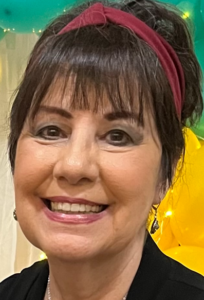 Ms. Venus Ginés is a 30-year breast cancer survivor, who suffered a recurrence in 2017 after 25 years of survivorship and in the Fall of 2022, with the 3rd bout with Triple Negative Invasive Lobular Carcinoma. In 2018, Venus retired as a faculty member at Baylor College of Medicine in Houston, teaching cultural competence and health literacy, as well as conducting research on Latino medical mistrust to devote her time to her Latino/a advocacy work. From her personal experience with cancer and her sister's untimely death of cervical cancer, Venus founded Día de la Mujer Latina, Inc., (DML), in 1997 as a national nonprofit organization, celebrating its signature health fiesta in 40 states, Puerto Rico, Mexico, and the Dominican Republic, providing the medically underserved Latina community with culturally and linguistically proficient health education, early detection screening for chronic diseases, culturally-tailored preventive programs for Latino teens and patient-centered navigation. In 2009, Venus became a Texas State Certified Instructor of Promotores/Community Health Workers (P/CHWs) with DML being the first approved bilingual Statewide Sponsored Certification Training Program for P/CHWs and Instructors in Texas. By March 2020, DML trained over 5820 P/CHW on Dispelling Myths about COVID-19 with subsequent training on Telehealth Community Navigation, Behavioral Health Community Navigation, Vaccination Community Navigators, and Clinical Trial Community Navigation for potential career opportunities. DML sponsored 14 P/CHWs Instructors to become bilingual Mental Health First Aid Instructors. Her recent launch of the Telehealth Community Navigation Contact Center, staffed by Bilingual Promotores/CHWs, continues to successfully answer hundredths of calls, debunking misinformation and promoting health equity by incorporating the bilingual Telehealth Nurse Navigator, who is also a P/CHW-Instructor, to provide warm transfer calls to our clinical partners. On June 30, 2022, DML was awarded Community Health Worker Apprenticeship Program under the Dept of Labor and began its program on September 8, 2022, to expand the role of P/CHWs in public health and mental health peer services