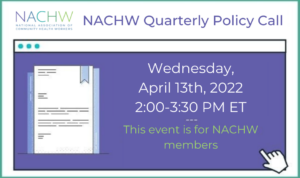 Open to all NACHW members! Hosted by the NACHW Policy Committee.
Please join us for the NACHW Policy Committee Quarterly Call on April 13th at 2:00-3:30pm ET. After this call, participants will be able to:
Describe the current status of the Prevent Pandemics Act 

Identify policy actions related to the Prevent Pandemics Act 

Describe resources to support CHW policy development 

Hear from fellow NACHW members about some of the CHW policy challenges they are facing.

Collectively support each other and hear CHW policy success stories. 
When you register for the event, please let us know if there is a CHW policy issue you would like your colleagues to address during the call. Please be prepared to give a very brief (30 seconds-1 minute) overview of your issue so that we have time to provide support to as many participants as possible.
Date: April13, 2022 
Time: 2:00-3:30pm ET | 1:00-2:30pm CT | 12:00-1:30pm MT | 11:00-12:30pm PT