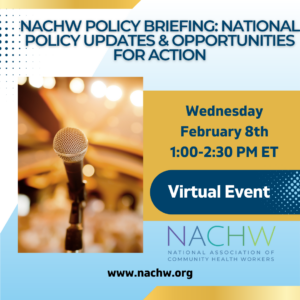 Join us on Wednesday, February 8th from 1:00-2:30pm Eastern for the NACHW CHW Policy Briefing. NACHW Executive Director Denise Octavia-Smith and guests will review current federal legislation related to CHWs, offer options to take action, and invite member recommendations.
This call is open to all!
About the presenters: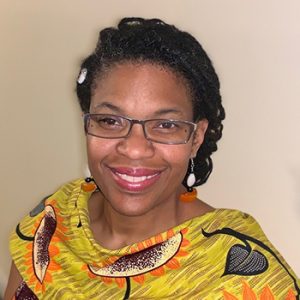 Denise Octavia Smith, MBA, CHW, PN is the founding Executive Director of the National Association of Community Health Workers, Visiting Scholar at the Harvard Medical School Center for Primary Care Program in Global Primary Care and Social Change, Aspen Institute Healthy Communities Fellow, and a Robert Wood Johnson Culture of Health Leader. As a woman of African descent, a Community Health Worker, certified patient navigator and survivor of a rare chronic disease, Denise envisions a culture of health where individuals have self-determination and dignity, where communities meaningfully contribute to system design and governance and where societies eliminate structural barriers to well-being. During the COVID-19 pandemic, Denise co-founded the Community Based Workforce Alliance and the Vaccine Equity Cooperative to advocate for national racial equity principles and policies that affirm and sustain community expertise and capacity in COVID-19 response and community recovery and developed the first National CHW Policy Platform with recommendations for public and private institutions to respect, protect and authentically partner with CHWs and their Networks. Denise advises the Rockefeller Foundation, ASTHO, CDC 2109/2110 grantees, the Morehouse School of Medicine, United Health Care and the Harvard Medical School Center for Primary Care S.A.V.E. in Community and Rural Health Program among others on COVID response, CHW integration, legislation and workforce sustainability. Denise is currently funded by the Johnson and Johnson Foundation to develop a national CHW leadership team and develop a data-driven campaign to advance CHW professional identity, policy leadership and organizational capacity. She has also assembled global and U.S. federal, state and community subject matter experts through funding from Sanofi US to design a National CHW Registry.
Hello! My name is Angie Kuzma (she/her) and I'm a CHW based in Portland, Oregon, where I have worked directly in service to people experiencing house/homelessness for approximately 10 years. Having experienced homelessness as an adolescent, it has been my privilege to work with people who I have shared/similar lived experience with as they work toward their own goals and healing. My CHW journey began in 2010 as a volunteer and later employee at Outside In, a non-profit and Federally Qualified Health Center (FQHC) that serves youth experiencing house/homelessness. Following a less-than-conventional academic journey, in 2017 I completed a Master's degree in Public Health (MPH) Management & Policy. Throughout the MPH program, I worked full time as a CHW at the Multnomah County Health Department (MCHD) HIV Health Services Center, a Ryan White-funded clinic and FQHC that offers specialty primary care to people living with HIV/AIDS. I'm grateful for the privilege of having had my employer's support to participate in a capacity-building CHW training and for the opportunity to complete my MPH practicum/internship in collaboration with the Oregon Community Health Workers Association (ORCHWA). This partnership allowed me to investigate and further develop CHW payment models in Oregon, including Medicaid fee-for-service and value-based payment. This evolved into additional payment-related research and my participation in local, state, and national-level advocacy for the CHW profession, workforce and movement. In 2018, I transitioned to a full time position as Policy & Data Manager at ORCHWA, where I focused on amplifying the incredible work of culturally-specific community-based organizations (CBOs) and the CHWs they employ and supported the organization's strategies related to policy, advocacy, data, and systems integration. As a member of the Oregon Traditional Health Worker Commission, I collaborated with CHWs, non-CHW allies, and additional interested parties to produce recommendations that preserve the integrity of the CHW profession and address barriers to sustainable Medicaid payment for CHW services and positions in Oregon across a range of employment sectors, including clinical settings, schools, local public health departments, and culturally-specific community-based organizations (CBOs). Alongside working for ORCHWA, I volunteered as a CHW with Portland Street Medicine, an emerging 501(c)(3) that coordinates a network of volunteers to offer basic medical care and additional support to people experiencing home/houselessness. I'm so honored to continue my journey with NACHW as the Policy & Advocacy Manager.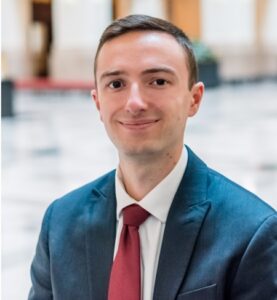 Lucas Allen is an Advocacy Manager for Partners In Health United States and is an advocacy professional passionate about changing policies to promote public health and health equity. He grew up in Massachusetts before working in DC, and now lives in New York City. His most recent role was with the American Academy of Pediatrics, where he worked on environmental health and climate change, injury prevention, health equity, and other children's health issues at the federal level. Lucas holds an MPH in Health Policy from George Washington University and a B.A. in International Studies from Boston College.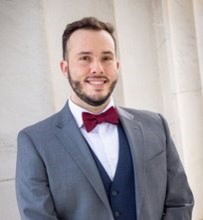 Justin Mendoza is the Advocacy Lead for Partners In Health United States. Previously until 2017, Justin worked as staff for PIH Engage, growing the advocacy efforts of the team before moving on to Washington D.C. to advance health policy priorities, mainly lowering drug prices, expanding health care coverage, and lowering underlying health care costs. He has experience advancing legislation and administrative action at the state and federal level, as well as coalition management and policy analysis. Justin holds a MPH in Health Policy from Yale University and a B.S. in biomedical sciences and neuroscience from Central Michigan University.

Katie is the Executive Director of PIH-US, the U.S. arm of Partners In Health, a nonprofit global health and social justice organization. PIH-US envisions a future in which health is human right, not a privilege in the United States and works to advance health equity by accompanying visionary public health and community leaders to build more just systems and healthier communities. Earlier in her career, Katie co-founded and co-led two organizations dedicated to engaging young people in the fight for global health equity and HIV treatment access—serving as VP of Programs at Global Health Corps and Program Director of FACE AIDS. She's also worked alongside civil society leaders in South Africa on building a national coalition and advocacy campaign around gender-based violence policy reform and with refugee communities on community-led development programs in Zambia. Before re-joining PIH in 2020 to launch the new US program in response to COVID-19, Katie was a consultant at The Bridgespan Group, serving as a strategy adviser for NGOs and philanthropies. She holds an MPH from Johns Hopkins School of Public Health and an MPA from Harvard Kennedy School. Katie is based in Brooklyn, NY.