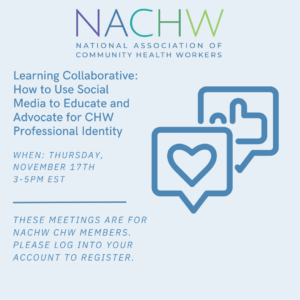 NACHW Members are invited to our next Learning Collaborative on November 17th! This meeting will be an interactive social media training to learn social media basics, best practices on creating graphics, posting, and hashtags. In addition, this training will discuss how to use social media as a tool to educate and advocate for CHW professional identity, through sharing our new social media toolkit for the Six Pillars of the CHW Profession.
Attendees will have opportunities to learn from NACHW's communications team, along with space to discuss their experiences and questions around social media!
All those who attend for more than 60 minutes will receive a certificate of attendance.
This session is open to NACHW members only – log in to your account, visit the member's area, and click on events to register!
Interested in joining the session but aren't an active NACHW member? Become a member here!
More about NACHW Learning Collaboratives: 
Sponsored by the RxFoundation, the NACHW Learning Collaboratives are a space for CHWs from across the country to come together for meetings around a certain focus area. These Learning Collaboratives are a space for members to listen to each other, learn from each other, develop our leadership skills and voices, and lift up CHW expertise and resources.
The six collaborative groups are:
CHW Organizational Leaders
Spanish Speaking Promotores/as
Mental Health
Immigrants and Refugees
Community Violence Prevention
Community Health Representatives (CHRs)
Community Health Representatives (CHRs) refer to the individuals working through the Community Health Representative program run through Indian Health Services on many tribal nations. You can learn more about CHRs here. 
Date and time: Thursday November 17th, 2022 from 3-5 pm EST