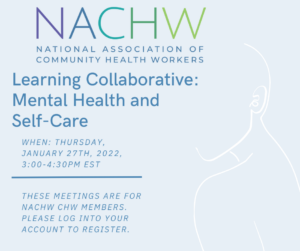 Our members spoke, and we have heard you. Over the last several months, our members requested more opportunities for sharing and collaborating within the workforce. In response, NACHW is starting a pilot program of Learning Collaboratives where CHWs from across the country come together for meetings around a certain focus area. These Learning Collaboratives are a space for members to listen to each other, learn from each other, develop our leadership skills and voices, and lift up CHW expertise and resources.
During our first meeting, many of the attendees mentioned the desire and need for greater mental health training, both for their clients and for their own self-care. This January meeting will focus on mental health and self-care. Similarly to last meeting, all attendees with start the meeting together and then split off into their collaborative groups:
The five initial collaborative groups will be:
CHW Organizational Leaders
Spanish Speaking Promotores/as
Mental Health
Immigrants and Refugees
Community Health Representatives (CHRs)
*Community Health Representatives (CHRs) refer to the individuals working through the Community Health Representative program run through Indian Health Services on many tribal nations. You can learn more about CHRs here. 
Our next meeting will be held Thursday, January 27th from 3-4:30pm EST.
The collaboratives are for CHW members of NACHW. To register, please sign-in to your account, please go to www.nachw.org and click on "Login" on the top right corner of the page. Then, click on the "Member's Portal," on the top right of the page. From there, go to the "Events" tab to register for the call.
Questions about registration or the event can be directed to Aurora, agrantwingate@hria.org.
NACHW Learning Collaboratives
Nuestros miembros hablaron, y los hemos escuchado. En los últimos meses, nuestros miembros solicitaron más oportunidades para compartir y colaborar dentro de la fuerza laboral. En respuesta, NACHW está comenzando un programa piloto de Learning Collaboratives donde los CHW de todo el país se reúnen para reuniones en torno a un área de enfoque determinada. Estas colaborativas de aprendizaje son un espacio para que los miembros se escuchen unos a otros, aprendan unos de otros, desarrollen nuestras habilidades y voces de liderazgo, y eleven la experiencia y los recursos de CHW.
Durante nuestra primera reunión, muchos de los asistentes mencionaron el deseo y la necesidad de una mayor capacitación en salud mental, tanto para sus clientes como para su propio autocuidado. Esta reunión de enero se centrará en la salud mental y el autocuidado. De manera similar a la última reunión, todos los asistentes comienzan la reunión juntos y luego se dividen en sus grupos de colaboración:
Los cinco grupos de colaboración iniciales son:
Líderes Organizacionales de CHW
Promotores de habla español
Salud mental
Inmigrantes y refugiados
Representantes de Salud Comunitaria (CHR)*
Esta reunión tendrá lugar el jueves 27 de enero de 3-4:30 pm EST.
*Los Representantes de Salud Comunitaria (CHR) se refieren a las personas que trabajan a través del programa de Representantes de Salud Comunitaria ejecutado a través de los Servicios de Salud Indígena (Indian Health Services) en muchas naciones tribales. Puede obtener más información sobre los CHR aquí.
Sponsored by: