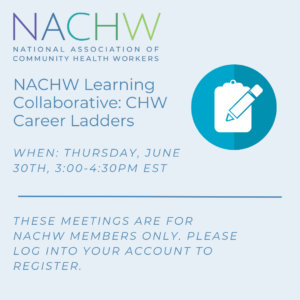 NACHW invites our CHW members to come take part in our next Learning Collaborative on June 30th! 
About our Learning Collaboratives: 
NACHW has started a pilot program of Learning Collaboratives where CHWs from across the country come together for meetings around a certain focus area. These Learning Collaboratives are a space for members to listen to each other, learn from each other, develop our leadership skills and voices, and lift up CHW expertise and resources. 
The six initial collaborative groups will be:
CHW Organizational Leaders

Spanish Speaking Promotores/as

Mental Health

Immigrants and Refugees

Community Health Representatives (CHRs)

Community violence prevention
Community Health Representatives (CHRs) refer to the individuals working through the Community Health Representative program run through Indian Health Services on many tribal nations. You can learn more about CHRs here.
Date and time: Thursday, June 30th, 3:00-4:30pm EST.