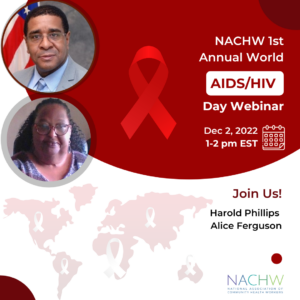 This webinar will highlight national data and policy on HIV/AIDS in the U.S. and include CHW and ally guest speakers with lived experience in HIV; NACHW will amplify CHWs' roles in providing HIV related services as well as gather experiences and opportunities from participants on advancing racial equity to eradicate HIV.   
Attendees will:
Date and time: Friday, December 2nd, 2022, 1-2 PM EST
Resources from the Webinar: 
Slideshow from Dr Harold Phillips
HIVMA Michelle Cespedes Slideshow
About the presenters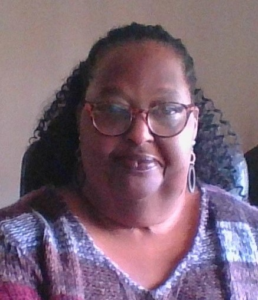 Alice Ferguson is a Peer Navigator, HRA Wellness Resource Center, in New Britain CT, and a 30+ year survivor of AIDS who vigorously advocates in various capacities.  Alice served for 5 years as Chair of the Hartford Commission on HIV/AIDS.  This Commission promoted programs that enhanced the lives of people infected and by HIV/AIDS by making recommendations to the Mayor for specific activities not within the scope of the Hartford Ryan White Planning Council (RWPC).  The Hartford Target Group Area (Hartford, Tolland and Middlesex Counties) RWPC is an advisory Council to the Mayor designed to address HIV/AIDS issues including: education, gaps in services, emerging healthcare problems not addressed by existing programs which work to eliminate institutional barriers to service delivery operations and weaknesses or conflicts relative to the HIV/AIDS community.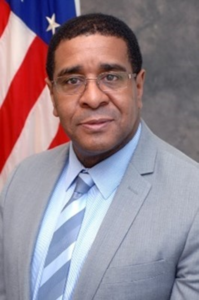 Harold J. Phillips, MRP, Director of the White House Office of National AIDS Policy (ONAP). In this position, he leads the effort to set the Administration's domestic HIV/AIDS priorities. This includes monitoring and implementing the National HIV/AIDS Strategy (NHAS), consulting with the Office of Management and Budget, coordinating with others on the Domestic Policy Council, the National Security Council, and the Office of the Global AIDS Coordinator to ensure America's response to the HIV epidemic is accelerated, comprehensive and reflective of the lived experiences of those at risk of and living with HIV. This work is done to reduce the number of new HIV transmissions, improve the quality of life for people living with HIV and end the HIV epidemic.
Tyler B. Evans, MD, MS, MPH, AAHIVS, DTM&H, FIDSA currently serves as the CEO and co-founder for Wellness and Equity Alliance, a national group of clinicians and organizers committed to transforming health care delivery to vulnerable communities. During the COVID-19 response, Dr. Evans held a number of positions, including the chief executive and medical officer (CEO/CMO) for Curative Medical Associates, Inc, which worked with Curative, Inc. to provide the mass administration of COVID-19 vaccines across the nation administering >2 million doses in 10 states with a focus on health equity. Prior to this, he was the deputy public health officer and chief of the COVID-19 vaccination branch at Marin County Health and Human Services Agency. Previously, he served as the CMO for the NYC Office of Emergency Management medical section focusing on the COVID-19 response. He has held other CMO posts overseeing community health centers focusing on homelessness, substance abuse and migrant health, as well as leading infectious disease divisions in a number of organizations across the US – including the AIDS HealthCare Foundation (AHF).
Dr. Michelle Cespedes is a professor of medicine at the Icahn School of Medicine at Mount Sinai in New York, New York, where she also serves as co-director of the Clinical and Translational Research Center at Mount Sinai and co-director of the ID Fellowship Research Curriculum at the Icahn School of Medicine at Mount Sinai. She advocates for populations disproportionately affected by HIV, promoting community HIV education and working to make clinical trials more accessible and inclusive. As a researcher, Dr. Cespedes focuses on complications and comorbidities of HIV with an emphasis on prevention in high-risk populations and HIV-related women's issues. She believes serving as chair of the HIVMA Board to be an exciting opportunity to ensure equitable access to HIV treatment, advance prevention measures and progress in the fight to end the HIV pandemic.