Learn about the data NACHW has collected on CHW networks since March 2020 and hear about their plans to provide growing technical assistance in 2022.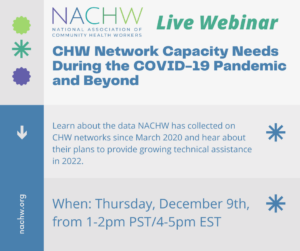 At the beginning of the COVID-19 pandemic, NACHW began doing CHW Network townhalls to hear about the concerns and capacity needs of the CHW Networks, Associations, and Coalitions. Since that time NACHW has held over a dozen of these calls and developed a greater understanding of what CHW Networks need in relation to the pandemic and what they need in order to maintain their sustainability in what is hopefully a new golden age of public health. Lastly, NACHW will preview our plans for a series of trainings for CHW Networks in 2022.
Learning Objectives:
1.       What is a CHW Network and why are they vital to the CHW workforce?
2.       What do CHW Networks need in relation to COVID-19?
3.       What do CHW Networks need for sustainability and capacity building?
4.       How can funders, Public Health Departments, and others help to address these needs?
When: Thursday, December 9th from 1-2pm PST/ 4-5pm EST
This webinar is open to all, please register here: https://us02web.zoom.us/meeting/register/tZEkde6upjkoGdzm4P5mTHEYkVgMtyj3ZMX9