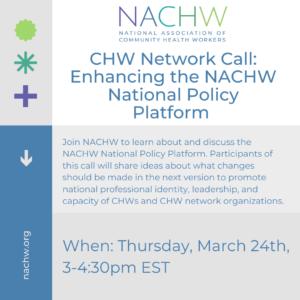 Join NACHW  for the monthly CHW Network Call to learn about and discuss the NACHW National Policy Platform. Participants of this call will share ideas about what changes should be made in the next version of this important tool to promote national professional identity, leadership, and capacity of CHWs and CHW network organizations.
This call is open to *CHW Network leaders and representatives.
*NACHW uses the term CHW Network to describe a state/regional organization, association, or coalition comprising 50% or more of CHWs in leadership and membership, and whose mission and activities focus on CHW training, workforce development, mentoring, member mobilization, cross-sector networking and advocacy.
Date and Time: Thursday, March, 24th from 3-4:30pm EST/12-1:30pm PST