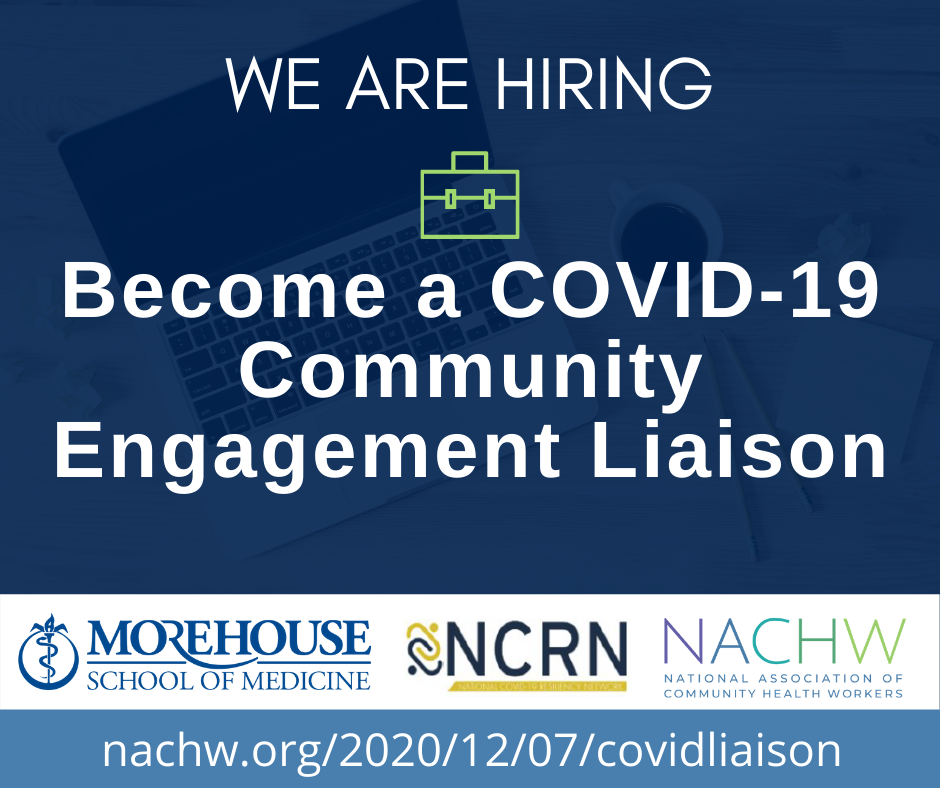 Community Health Workers are invited to submit a Letter of Interest by January 15th, 2020, in order to serve as one of NACHW's COVID-19 Community Engagement Liaison (CEL), for the period of January – June 30th, 2021.
Job description:
The National Association of Community Health Workers (NACHW) is a non-profit, membership organization of CHWs and allies, united across geography, ethnicity, and sector to support communities in achieving equity and social justice. NACHW is a national strategic partner of the Morehouse NCRN initiative. NACHW is recruiting up to 12 CHWs (CHWs include, Promotoras de salud, Community Health Representatives, Community Health Aides, Community Outreach Specialists, Peers, ect) from select geographic communities to provide subject matter expertise, infrastructure, support, and direct community engagement in response to the COVID-19 pandemic.
NACHW has partnered with The Morehouse School of Medicine to implement the National COVID-19 Resiliency Network (NCRN), funded by the Office of Minority Health. The purpose of NCRN is to coordinate a strategic and structured national network of national, state/territorial/tribal and local public and
community-based organizations that will mitigate the impact of COVID-19 on racial and ethnic minority, and rural populations.
The CHWs who contract with NACHW will support the Morehouse initiative and contribute to the achievement of the following objectives; identify and engage vulnerable communities, nurture existing and develop new partnerships, disseminate culturally and linguistically appropriate information, link vulnerable communities to resources with technology, monitor and evaluate, and provide comprehensive dissemination.
NACHW is looking to hire up to 12 CHWs, one or more in each of the following areas:
Anchorage County, Alaska
Hawaii (all counties)
Los Angeles County, California
Orleans, Jefferson, and/or East Baton Rouge Parishes in Louisiana
The Navajo Nation
El Paso and/or Moore County, Texas
Florida (all counties)
Georgia (all counties)
The CHWs who contract with NACHW will engage their local community and deepen their existing partnerships with other CHWs and organizations, inform and support existing local COVID-19 strategies, and link local COVID-19 efforts to the national NCRN initiative.
DOWNLOAD THE FULL DESCRIPTION AND INSTRUCTIONS TO APPLY HERE