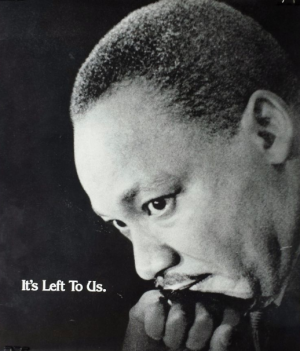 First celebrated in 1986, it would take more than a decade before all 50 states would observe a national holiday for the Reverend Dr. Martin Luther King, Jr. As the decades transition our national consciousness from lived experience to vague history, I often use this month to reflect upon what I don't know about the Civil Rights Movement – and identify opportunities to inspire and inform my work today. For instance, while most Americans are familiar with Dr. King's speech entitled "I Have a Dream" delivered at the historic March on Washington, few can recall that the southern preacher known for non-violence and integration, had gone to DC to announce the urgent need to collect on a "promissory note" which America had – through its treatment of Black citizens – "shamefully defaulted" on (Stamford University, retrieved Jan 13, 2020). Here King referred to America's promise of inalienable civil rights as well as liberty and freedom from poverty and into economic prosperity.
Economic security is intricately tied to health and wellbeing. The Center on Budget and Policy Priorities Economic Security chartbook shows that federal economic security programs, like the Earned Income Tax Credit, social security, SNAP provide significant benefit for millions of children and low income families living in poverty (CBPP, Nov 2019). Yet economic inequity by race and ethnicity persists. In 2017, nearly 1 in 3 black infants and toddlers, and more than 1 in 4 Hispanic infants and toddlers lived in poverty, compared to approximately 1 in 9 white, non-Hispanic infants and toddlers (Child Trends, 2018).
Dr. King's activism around economic security for all Americans rose to prominence in 1967 in the Poor People's Campaign launched through the counsel and strategy of Marian Wright Edelman, the first Black woman admitted to the Mississippi Bar and founder of the Children's Defense Fund (Children's Defense Fund, retrieved Jan 13, 2020). This integrated campaign for economic and human rights was another critical step in the movement's progression to yield genuine and lasting quality of life transformation for our nation's citizens living in poverty. And while current politics are often inclined to divide us by region, race, and religion, this Campaign sought to unify communities under an idea of guaranteed income, housing and full employment (Bishop, 1971).
Lack of guaranteed employment and income for every person continue to burden our society as do our lack of unity and respect for all people. As states and research institutes contemplate strategies to eliminate health disparities and priotize upstream social determinants of health, increasingly they seek the expertise and competencies of Community Health Workers, trusted frontline individuals who draw upon their unique and invaluable connection, lived experience and understanding of the communities we serve to promote health knowledge, eliminate barriers, and build capacity in pursuit of health equity and social justice. Lifting your voice and standing as a leader on behalf of your community is more important than ever.
As equity champions, I know that my fellow Community Health Worker brothers and sisters are inspired and resolute in what Dr. King called "the fierce urgency of now". Just as King saw that time was right to unite communities against the common enemies of poverty, racism and disenfranchisement, continue to come together with other CHWs across communities, cultures and sectors to transform health and social services, education and housing, addiction and economic opportunity with your creativity and commitment.
As many of us enjoy a day off from work or school on January 20, 2020, consider reading or watching the full "I Have A Dream" speech to revisit or hear for the first time, the deeper call to unified action around basic human rights and needs. Much of what made this movement great can recede into memory, myth and perhaps even meaninglessness if we don't do the hard work of linking the past to the present to create lasting, unified change. We are truly stronger together.