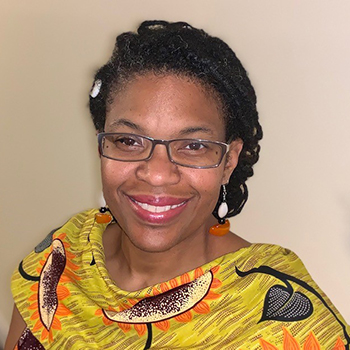 Denise Octavia Smith was announced as the founding Executive Director for the National Association of Community Health Workers (NACHW), a groundbreaking national organization promoting the collective voice and professional advancement of the Community Health Workers (CHW) workforce and transforming the health and well being of our communities. The announcement was made at the American Public Health Association Meeting on November 4th, 2019 in Philadelphia, Pennsylvania by the NACHW Board of Directors.
Smith, a CHW, health services administrator, and equity leader, began as an artist-advocate over 23 years ago. "I'm thrilled and humbled for the opportunity to advocate on behalf of the members of the CHW profession," said Smith, who was selected from a national pool of candidates. "CHWs are one of the most diverse, trusted and committed workforces in the nation, who are addressing upstream social determinants of health and advocating to eliminate barriers to health and well-being for millions of US residents.''
NACHW's Board of Directors, led by Board President Wandy Hernandez-Gordon, was pleased to bring Smith on board. "As individuals we are not able to enhance the CHW workforce, but together we can create a solid and united workforce that will benefit our profession nationally. Please join us as we begin to create history," said Hernandez-Gordon.
NACHW was officially launched as a 501(c)3 nonprofit organization in April 2019, but the concept for the organization dates back to 2014 when Sanofi US convened a group of recognized leaders in the CHW field to discuss opportunities to support CHWs nationally. In 2018, Health Resources in Action (HRiA) became the fiduciary for NACHW. "We are excited to partner with Denise and NACHW's Board as they work together to strengthen the profession and improve population health," stated Steven Ridini, HRiA President & CEO.
As the Executive Director, Smith will  advance NACHW's strategic directions with its Board of Directors, national members and partners to:
Mobilize and Organize Community Health Workers and their state and local networks
Increase Organizational Development
Create Professional Development, Education and Networking opportunities for the membership
Develop Strategic Partnerships with Mission Aligned Organizations
Build a Research and Education Clearinghouse for members and partners.
"My highest priority," said Smith of her role, "is to develop a sustainable organization through CHW national unity, professional capacity building, and strategic partnerships."
To learn more about NACHW membership and partnership opportunities, please email info@nachw.org or visit https://live-nachw.pantheonsite.io/.